FS Wednesday's Word of Power
"WHERE Does Our Help Come From?"
November 27, 2019
Eva Windahl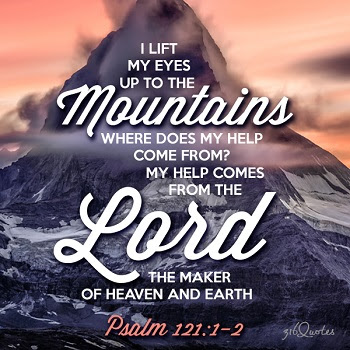 We have all been there.  SUDDENLY we are faced with the unthinkable.  We are thrown into a fiery storm of suffering or we find ourselves facing a gigantic problem. The question is what we do with it and from WHERE we expect to get help.  With this in mind and heart, I heard the Lord say: "Let My people CALL OUT TO ME! Remind them that I am the Lord who has made heaven and earth. I am still in control! I am not unaware of whatever you are facing but know this: I am sending help this very moment! Help is on its way to you, in My time and according to My will." WHERE does our help come from? Let us have a closer look at Psalm 121:
I lift up my eyes to the mountains—
    where does my help come from?
2 My help comes from the Lord,
the Maker of heaven and earth.
3 He will not let your foot slip—
    he who watches over you will not slumber;
4 indeed, he who watches over Israel
will neither slumber nor sleep.
5 The Lord watches over you—
    the Lord is your shade at your right hand;
6 the sun will not harm you by day,
nor the moon by night.
7 The Lord will keep you from all harm—
    he will watch over your life;
8 the Lord will watch over your coming and going both now and forevermore.
FIRST, we have to LOOK UP to God because He loves us and can do the impossible! The sole source of 'help' comes from Yahweh, who, as Creator, has unlimited power.
SECONDLY, we should remind ourselves that God is always active, always accessible.  He never sleeps, He is always omnipresent. Therefore, we can feel safe knowing that whatever we are confronted with He already knows about it and is in control.
THIRDLY, as a good shepherd, Yeshua watches over His flock. His eyes and heart follow the sheep wherever they go, and he protects them from the attacks of the enemy. He watches out for you and your loved ones. And even though we sometimes "walk through the [sunless] valley of the shadow of death, I fear no evil, for You are with me; Your rod [to protect] and Your staff [to guide], they comfort and console me." (Psalm 23)
Finally, WHERE does our help come from? – My help comes from the Lord, the Maker of heaven and earth and with that in mind we are not alone.  We have God on our side.
Blessings