Vision From
FS Situation Room – 11/07/19
Becca Card
During worship in the Situation Room Yahweh gave me a vision, which continued through the message, in tongues. 
It started with Yahshua standing in front of Bonnie in her office as she was worshiping.  He said, "Bonnie, Bonnie, sing to Me!  I love it when You sing to me!  As you worship Me, I want you to feel my touch. In the Firestorm meetings when others are there you set the atmosphere.  They don't always tell you, but each person in the room has learned to enter into My presence.  They feel My touch."
As I watched, Yahshua went from person to person.  He touched some on the shoulder and some on the head.  It was clear that they were receiving a touch and things changed.  You could literally see backs being straightened, gallbladders that were infected become new, new teeth replacing old teeth, arteries opening up and blood flow improving.  There was one miracle after another.  There was not a lot of fanfare, but everyone in the room received a touch from Yahweh.
At this point, I heard my name.  Suddenly the Lord was in the office with me.  This vision actually continued into Friday at different times.
Then I heard this:
 Tell them – 
THEY ARE ACCEPTED
They are My children – John 1:12 – But as many as received Him, to them He gave the right to come children of God, even to those who believe in His Name.
They are My friend – John 15:15 – No longer do I call you slaves, for the slave does not know what his master is doing; but I have called you friends., for all things that I have heard from My Father I have made known to you.
They have been justified – Romans 5:1 – Therefore having been justified by faith, we have peace with God through our Lord Jesus Christ.
They are united with the Me, one spirit with Me – I Corinthians 6:17 – But the one who joins himself to the Lord is one spirit with Him.  
They are a member of My Body – I Corinthians 12:27 – Now you are Christ's body, and individually members of it.
They have direct access to Yahweh through the Spirit of Christ – Ephesians 2:18 – For through Him we both have our access to one Spirit to the Father.
They are My workmanship – Colossians 2:10 – and in Him you have been made complete, and He is the head over all rule and authority.
THEY ARE SECURE
They are free from commendation – Romans 8:1 – 2 – There is therefore now no condemnation for those who are in Christ Jesus.  For the law of the Spirit of life in Christ Jesus has set you free from the law of sin and death.
They can be assured that all things work together for good – Romans 8:28 – And we know that God causes all things to work for together for good to those are love God, to those who are called according to my purpose."
They are free from all condemning charges made against them – Romans 8:31 – 34 – What shall we then say to these things? If God be for us, who can be against us?  He that spared not his own Son, but delivered him up for us all, how shall he not with him also freely give us all things?  Who shall lay anything to the charge of God's elect? It is God that justifieth.  Who is he that condemneth? It is Christ that died, yea rather, that is risen again, who is even at the right hand of God, who also maketh intercession for us.
They cannot be separated from the love of God – Romans 8:35 – 39 – Who shall separate us from the love of Christ? shall tribulation, or distress, or persecution, or famine, or nakedness, or peril, or sword?  As it is written, For thy sake we are killed all the day long; we are accounted as sheep for the slaughter.  Nay, in all these things we are more than conquerors through him that loved us.  For I am persuaded, that neither death, nor life, nor angels, nor principalities, nor powers, nor things present, nor things to come, Nor height, nor depth, nor any other creature, shall be able to separate us from the love of God, which is in Christ Jesus our Lord.
They are born of Me and the enemy cannot touch them – 1 John 5:18 – We know that no one who is born of God sins; but He who was born of God keeps him and the evil one does not touch him.
THEY ARE SIGNIFICANT
They are the salt and light of the world – Matthew 5:13 – 14 – Ye are the salt of the earth: but if the salt have lost his savour, wherewith shall it be salted? it is thenceforth good for nothing, but to be cast out, and to be trodden under foot of men.  Ye are the light of the world. A city that is set on an hill cannot be hid.
They are chosen and appointed to bear fruit – John 15:16 – You did not choose Me, but I chose you and appointed you, that you should go and bear fruit, and that your fruit should remain, that whatever you ask of the Father in My name, He may give to you.
They are a personal witness of me – Acts 1:8 – but you shall receive power when the Holy Spirit has come upon you; and you shall be My witnesses both in Jerusalem, and in all Judea and Samaria, and even to the remotest part of the earth.
They can all things through Me – Philippians 4:13 – I can do all through Him who strengthens me. 
They can approach Me with freedom and confidence – Ephesians 3:12 – In whom we have boldness and access with confidence by the faith of him.
They are ACCEPTED, SECURE AND SIGNIFICANT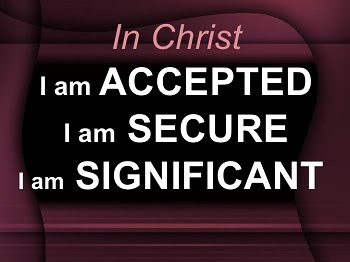 ***********************
Then He said it was important they remember their identify in Him and for me to tell them:
"Because of My redemption, they are new creations of infinite worth.  They are deeply loved, completely forgiven, fully pleasing and totally accepted by Me.  They are absolutely complete. 
When their performance reflects their new identity in Me, the reflexion is dynamically unique.
There has never been another person like them in the history of mankind, nor will there ever be.  I made each one an original, one of a kind, SPECIAL person."
At this point, I saw a building somewhere in Tennessee.  There was a sign that said Firestorm Ministries.  There were lots of computers and people operating them.  I could recognize some of the people at the computers. 
The scene then changed to groups of people all over the world.  It looked like each computer in Tennessee was connected to a movie screen in a different country.  The people were learning and as they learned they would go out and start another group. 
As the vision ended Yahweh said, "I have used Firestorm to reach the world with the Gospel.  Well done!"