FS WORD OF POWER
Eva Windahl
Walking Without Disappointment Through 2020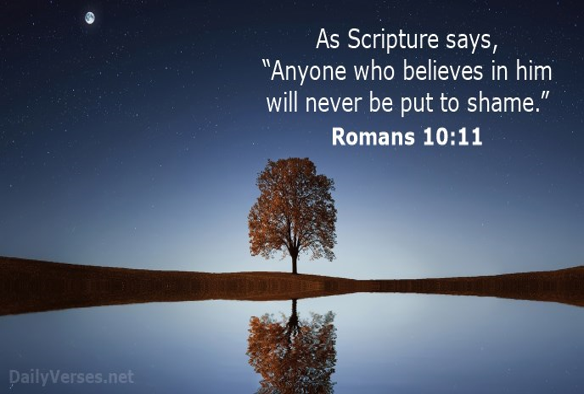 As I was reading the enclosed scripture below, I heard the Holy Spirit say: Never disappointed! Those words really echoed in my spirit for a while and I want to share them with you.
Let's read the scripture together:
Romans 10:11-13 (NLT)
"As the Scriptures tell us, "Anyone who believes in him will not be disappointed." Jew and Gentile are the same in this respect. They all have the same Lord, who generously gives his riches to all who ask for them. For, "Anyone who calls on the name of the Lord will be saved."
I don´t know how you started the New Year 2020 or if there is something that burdens your heart; but today I want to encourage that " Anyone who calls on the name of the Lord will be saved"  and that He will NEVER disappoint you if you decide to walk with Him through this New Year. Furthermore it makes the flowing promise: "They all have the same Lord, who generously gives his riches to all who ask for them."  
Isn´t that great news? God is generous! And encourages us to ask Him to fill our needs.  You see disappointment is the result of not getting what we asked for or not getting what was promised to us. So, let me give you more good news: God is not human! He does not lie, He is just, and He always does what is best for us. Even if we do not always get what we want; God will always give us what we need.  Sometimes we may not like it, but over time, we will understand, it was for our best!
Throughout life we face many disappointments and discouragements because of situations and people, but Paul said that anyone who trusts in Jesus will never be put to shame. The Amplified Bible puts it like this, "No man who believes in Him [who adheres to, relies on, and trusts in Him] will [ever] be put to shame or be disappointed" (Romans 10:11). Meaning with Jesus you will never be disappointed in the abundant life he provides for you. Jesus said in John 10, "The thief comes only to steal and kill and destroy; I have come that they may have life and have it to the full" (John 10:10). The life he offers doesn't start when we get to heaven, this abundant life starts right now.
This is a message of grace. This is an important truth to meditate on and believe with all your heart. When we place our hope in Jesus, we won't be disappointed. God reminded the Israelites over and over to trust in Him and put their confidence in Him. David said, "The LORD redeems his servants; no one will be condemned who takes refuge in him" (Psalm 34:22). By placing our faith in Jesus we will never face judgment. More than that, Jeremiah said, "blessed is the man who trusts in the LORD, whose confidence is in him" (Jeremiah 17:7). By placing our confidence and trust in Him we are blessed. He went on to say, "He will be like a tree planted by the water that sends out its roots by the stream. It does not fear when heat comes; its leaves are always green. It has no worries in a year of drought and never fails to bear fruit" (Jeremiah 17:8). By placing our confidence in the Lord we do not have to worry about anything. If the economy is bad then we needn't worry about it, we are in God's economy. The Lord is able to richly bless us and make all grace abound in our lives simply because He loves us, and we put our trust in Him.
And that´s HOW we never get disappointed- 

Bless