FS Friday Fire
Deborah Fry
January 3, 2020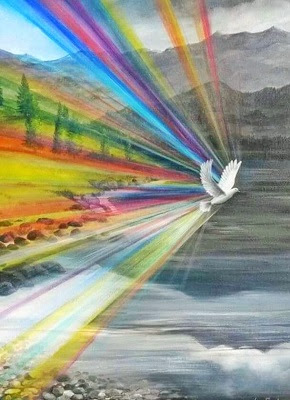 Beloved. Many prophetic words have been given to you. Many have not been fulfilled yet. There is an appointed time and a season for every event under heaven. Now is the time, Dear One. The moment you have been waiting and praying for. This is the kairos moment for all that I have given you to begin to unfold.
Like the petals of a flower, I will cause your gifts to open up and bloom. I shall cause you to walk in victory, power and might. Not by your might, not by your own power, but by My Spirit shall these things be accomplished. I shall give you dreams in the night and you shall see visions.
I am pouring out My Spirit upon all flesh. It is the time of "on earth as it is in heaven." The knowledge of My Glory shall cover the earth as the waters cover the sea. The attacks against you have been fierce. But My plans for you shall stand and the enemy shall utterly fall. My final plans for you are unfolding, My Child. Trust and release all things unto Me. Your warfare has ended.
It is finished, Dear One. I am taking those things off the shelf which you have given up on and handing them back to you. My double doors of blessing are open to you, My Child. Walk through by faith. ALL of My promises are YES and AMEN. Your time is now. You made it, Beloved. No more delay. Come, follow Me into your blessed and glorious future.
*****************
Kairos: the right or opportune moment; fixed or special occasion; the 'supreme moment.
Psalms 31:15 – My times are in Your hand: deliver me from the hand of mine enemies, and from them that persecute me.
Ecclesiastes 3:1 – To everything there is a season, and a time to every purpose under the heaven.
 2 Corinthians 6:2 – For He says: "In the time of favor I heard you, and in the day of salvation I helped you." Behold, now is the time of favor; now is the day of salvation!"
Habakkuk 2:3 – For the vision is yet for the appointed time; It hastens toward the goal and it will not fail. Though it tarries, wait for it; For it will certainly come, it will not delay.
Isaiah 40:1 – "Comfort, O comfort My people," says your God.
2 – "Speak kindly to Jerusalem; And call out to her, that her warfare has ended, that her iniquity has been removed, that she has received of the LORD'S hand Double for all her sins.
Rev 3:7 – To the angel of the church in Philadelphia write: These are the words of the One who is holy and true, who holds the key of David. What He opens, no one will shut; and what He shuts, no one will open.
8 – I know your deeds. See, I have placed before you an open door, which no one can shut. For you have only a little strength, yet you have kept My word and have not denied My name.