LESSON 5-Ephesians
Chapter 4
BEING THE CHURCH OF CHRIST
Ephesians 4:1-32
Eph.4:3 endeavoring to keep the unity of the Spirit in the bond of peace.
4:3 Being vigilant to guard your oneness of spirit.  We are prisoners of peace.  We confirm the fact that there is only one body, also that there is only one Spirit. Mirror Translation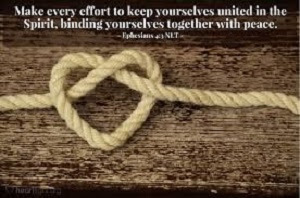 Endeavoring" – present active participle of SPUDADZW, "to hasten; to be zealous; to be diligent".
The concept of unity is brought up again in 4:13 and the following verses. Unity among people comes about when there is unity of thinking. It is edification and Christian growth that causes believers to be unified in their thinking, because the content of every person's thinking is the same, the Word of God. Without the unity of thinking that comes about through learning Bible truth, everyone is free to think independently. This results in a lack of unity.
The word "unity" here refers to a common essence, to the characteristics we share as members of the family of God, the Body of Christ, the things listed in verses 4 to 6.
An illustration of unity of thinking and purpose is found in the OT in Gen. 11 with the building of the Tower of Babel (they are one and nothing that they have proposed to be shall be impossible to them.
Gen. 11:6 And the Lord said, "Indeed the people are one and they all have one language, and this is what they begin to do; now nothing that they propose to do will be withheld from them."
Also, in the OT books of Ezra and Nehemiah, where the Jews under Zerubbabel rebuilt the temple and the wall with tools and weapons in hand. (one guarding, one building) Neh. 4:16
Related Scripture:
1 Peter 3:8, Finally, be ye all of one mind, having compassion one of another, love as brethren, be pitiful, be courteous." In this verse there are four chief characteristics of Christian unity.
1."having compassion" – SYMPATHEIS, "suffering with". The English word "sympathy" is a transliteration of this Greek word. This is the ability to share with another person because of understanding in the spiritual frame of reference. Bible truth can be communicated because of knowledge of what the other is going through and how to help. One believer can think when another is not able to think; this is a great help when someone is going through a time of great stress.
2."love as brethren" – PHILADELPHOS- literally 'One who loves one like his/her brother/sister, This is rapport love, and it grows as the Christian grows, through edification. It is rapport and compatibility between two or more believers based on applied truth in the soul.
3."pitiful" – EUSPLAGTHNOS. Literally, "happy innards", therefore "good emotions". The word "pitiful" in the KJV times (early 17th century) carried this meaning of sympathy and "having pity", but the English word carries an unhappy, unpleasant connotation today. The ability to have good feelings is the result of "mind over emotions", Bible doctrine leading the thinking so as to produce good feelings, in this case, towards others. Paul said  to King Agrippa "I think myself happy." Acts 26:2
4."courteous" – TAPEINOPHRON"lowly-minded," humble minded, a mental attitude of graciousness.
Unity- We are already One in Christ Jesus. We must just wake up to this truth and act accordingly.
Body of Christ – The Unit
The Body of Christ, like all bodies, is comprised of many parts. There are joints (leaders) limbs, organs, and various members that, when left alone, are useless, but when assembled make up the entire body. 1 Corinthians 12:12-14 describe it like this: "The body is a unit, though it is made up of many parts; and though all its parts are many, they form one body. So, it is with Christ. For we were all baptized by one Spirit into one body – whether Jews or Greeks, slave or free – and we were all given the one Spirit to drink. Now the body is not made up of one part but of many." 
Related Scriptures:
1 Corinthians 6:17 But he who is joined to the Lord is one spirit with Him.
Acts 2:1When the Day of Pentecost had fully come, they were all with one accord in one place.
With One Accord Meaning:
Notice, it is "with one accord", not in one accord. (the old Honda joke!)
Definition: If a number of people do something with one accord, they do it together or at the same time, because they agree about what should be done. Synonyms: unanimously, without exception, by common consent, united.
This is unity of the Spirit.
Jesus prayed in John 17 that the Body of Christ would be united with the Godhead in the same way that He Himself is united with His Father.
John 17:21 that they may all be one, just as you, Father, are in me, and I in you, that they also may be in us, so that the world may believe that you have sent me.
The implication is that when people see us, they have seen the Father. And if they don't believe us on account of our words, they should believe us on account of our works, because we are to do greater works than Jesus did. That is the kind of unity that will cause the world to know that the Kingdom of God has come!
That prayer has been answered. We are One!!
(Eph 1:22-23) And He has put all things under His feet and gave Him to be Head over all things to the church, which is His body, the fullness of Him who fills all in all.
WE ARE ALREADY ONE IN CHRIST!!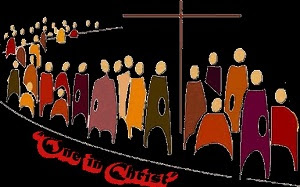 Unity is not discovered in programming, but in being filled with the very fullness of God himself. This is what marks the church – it's not our systems and our structures. The church is "his body…the fullness of him…" (Eph 1:23). 

The emerging church is the "Corporate Christ. "It is, "Christ in you the hope of glory" (Col 1:27).
He has given us the 'glory' that we may be one as they are one. But what is this 'glory'? It is "Christ in you" – or in Jesus' words, "I in them and you in me".  Without being filled with the fullness of God any 'unity' we experience will be a lie. It will not be the product of the Spirit of God. And will inevitably have at its core the dynamics of Babel. It will have a human hand on it and will serve to enhance someone's profile. The 'you' of "Christ in you the hope of glory" is plural in the Greek. What does this mean? It implies that the revelation of the indwelling Christ in the heart of the individual believer is the fountainhead of corporate unity. Because God is a 'unity' (the oneness of the Father and the Son), to be filled with the fullness of God.
Other Unity Scriptures:
UNITY- ONE MIND, ONE ACCORD
Psalm 133:1-2 Behold, how good and how pleasant it is For brethren to dwell together in unity!2 It is like the precious oil upon the head, Running down on the beard, The beard of Aaron, Running down on the edge of his garments.
John 17:11-21 "Now I am no longer in the world, but these are in the world, and I come to You. Holy Father, keep through Your name those whom You have given Me, that they may be one as We are.12 "While I was with them in the world, I kept them in Your name. Those whom You gave Me I have kept; and none of them is lost except the son of perdition, that the Scripture might be fulfilled.13 "But now I come to You, and these things I speak in the world, that they may have My joy fulfilled in themselves.14 "I have given them Your word; and the world has hated them because they are not of the world, just as I am not of the world.15 "I do not pray that You should take them out of the world, but that You should keep them from the evil one.16 "They are not of the world, just as I am not of the world.17 "Sanctify them by Your truth. Your word is truth.18 "As You sent Me into the world, I also have sent them into the world.19 "And for their sakes I sanctify Myself, that they also may be sanctified by the truth.20 "I do not pray for these alone, but also for those who will believe in Me through their word;21 "that they all may be one, as You, Father, are in Me, and I in You; that they also may be one in Us, that the world may believe that You sent Me.
Col. 2:19 and not holding fast to the Head, from whom all the body, nourished and knit together by joints and ligaments, grows with the increase that is from God.
Col. 3:14 But above all these things put on love, which is the bond of perfection.
Merry Christmas Everyone!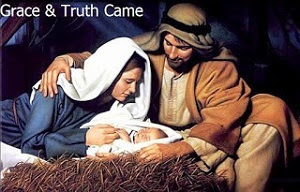 For the law was given through Moses, but grace and truth came through Jesus Christ. John 1:17
We will continue with Lesson 4 next week.
The blessings of the Lord are upon you whether by    blood, adoption/sonship or assignment. The blessing of the LORD makes a person rich, and he adds no sorrow with it. Prov. 10:22