LESSON 5-Ephesians
Chapter 4
BEING THE CHURCH OF CHRIST
The books of Ephesians is said to divide here between the "theological" or "doctrinal" portion, chapters 1 to 3, and the "practical" or "application" section of chapters 4 to 6.
Chapters 4, 5, and 6 of Ephesians are among the most valuable portions of scripture for teaching us about the will of God for us as individuals. Chapter 4 deals a great deal with mental attitude, and it begins with Paul's great mental attitude under maximum pressure. In this chapter we will study:
The principle of mental attitude
The unity of the members of the Body of Christ – the team concept.
Principles involved with spiritual battle, overcoming/occupational battle (v. 8) (spiritual joyfare)
The exercise of the ministry gifts
 The development of unity and coordinated function in the church
Ephesians 4:1-32
Eph. 4:1 I, therefore, the prisoner of the Lord, beseech you to walk worthy of the calling with which you were called,
4:1 As one captive in the Lord, (I have no other identity or agenda outside of Jesus, my complete existence is confined in Him) I urgently appeal to you therefore, with reference to your original identity, to conduct your life in such a way that your every move bears witness to the weight and value of who you really are.  (He surnamed you, not your parents or your culture!)  Mirror Translation
 Gk. #3870-"beseech you", PARAKALEW, "to call to; to cheer on; to exhort; to excite. The word "walk" is PERIPATEW in Greek, referring to "conduct of life". The word "worthy" is AKSIOS, meaning "worthy" or "deserving", in classical Greek conveying the meaning of "high price". The word "calling" is KLEISIS, "a calling; a legal summons; an invitation."
"Blessed by the… God of all counsel; who counsels us in all our afflictions so that we may be able to counsel those who are in any affliction…"     2 Corinthians 1:3-4
 "Parakaleo" means "to call alongside". A Greek word in the original Biblical manuscripts, it can be translated as "counsel", and also as "comfort, console, encourage, urge, appeal, exhort" — all of which describe aspects of the counseling process.
 "Parakaleo" appears in the Bible on a list of distinct "gifts of the Spirit". Counseling, as all ministry, is done to a certain extent by all believers, but some are specially equipped to use this gift as their primary ministry in the body of Christ.
 "Parakaleo" is also the term Jesus chose to designate the Holy Spirit in His coming to live in and minister through every Christian — under the Lordship of Christ, using His words. Hence, the Parakaleo ministry is also concerned with equipping Christians in general to apply God's Word accurately in their lives and in ministering to others.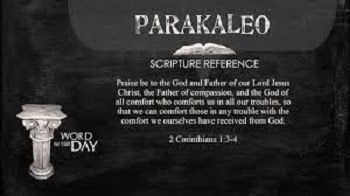 The passive voice of the verb indicates that the believer is called by the Lord directly.
Eph.4:2 with all lowliness and gentleness, with longsuffering, (patience toward others) bearing with one another in love
4:2 Be mindful of the fact that meekness and tenderness are the fabric of your make-up which enables you to show compassion even in seemingly impossible situations, eagerly bearing with one another in an environment where love rules. Mirror Translation
"lowliness" – TAPEINOPHROSUNEI, "sound objective thinking according to an absolute standard"
 
"lowliness" was used to translate this verb in the KJV, there have been many strange ideas floated by Christians over the generations. Often, acts of humility or submitting oneself to hardships or degradation, certain things which place the believer in a lowly position, are thought to be the means of spiritual attainment. Many believers are impressed by the things they, or others, have given up or suffered.
Related Scriptures:
Acts 20:17-21 From Miletus he sent to Ephesus and called for the elders of the church.18 And when they had come to him, he said to them: "You know, from the first day that I came to Asia, in what manner I always lived among you,19 "serving the Lord with all humility, with many tears and trials which happened to me by the plotting of the Jews;20 "how I kept back nothing that was helpful, but proclaimed it to you, and taught you publicly and from house to house,21 "testifying to Jews, and also to Greeks, repentance toward God and faith toward our Lord Jesus Christ.
Philippians 2:1-8 Therefore if there is any consolation in Christ, if any comfort of love, if any fellowship of the Spirit, if any affection and mercy,2 fulfill my joy by being like-minded, having the same love, being of one accord, of one mind.3 Let nothing be done through selfish ambition or conceit, but in lowliness of mind let each esteem others better than himself.4 Let each of you look out not only for his own interests, but also for the interests of others. 5 Let this mind be in you which was also in Christ Jesus,6 who, being in the form of God, did not consider it robbery to be equal with God,7 but made Himself of no reputation, taking the form of a bondservant, and coming in the likeness of men.8 And being found in appearance as a man, He humbled Himself and became obedient to the point of death, even the death of the cross.
SELF is out of the picture, and in which God the Father, Son, and Holy Spirit are the WHOLE picture.
Galatians 5:22 But the fruit of the Spirit is love, joy, peace, longsuffering, kindness, goodness, faithfulness,
Gal 5:23  gentleness, self-control. Against such there is no law. 24 And those who are Christ's have crucified the flesh with its passions and desires.
Gal. 5:19-21a Now the works of the flesh are evident, which are: [d]adultery, [e]fornication, uncleanness, lewdness, 20 idolatry, sorcery, hatred, contentions, jealousies, outbursts of wrath, selfish ambitions, dissensions, heresies, 21 envy, [f]murders, drunkenness, revelries……….. 
Notice there is only one fruit and that is love, not fruits but fruit.
"Joy is love exalted;
Peace is love in repose;
Long-suffering is love enduring;
Gentleness is love in society;
Goodness is love in action;
Faith is love on the battlefield;
Meekness is love in school; and
Temperance is love in training."
― D.L. Moody
FRUIT OF THE SPIRIT VS works of the flesh-FRUIT OF THE CARNAL/SENSE/SOULISH NATURE
Love –                         Lust
Joy-                             Grief/Sorrow
Peace-                        Strife
Longsuffering-      Impatience
Kindness-                Cruelty
Goodness –              Evil
Faithfulness-         Unfaithfulness/Deceitful
Gentleness-             Rash/ Rage
Self-Control-          Anger
 
The exact opposite.
We will continue with Lesson 5 next week.
The blessings of the Lord are upon you whether by    blood, adoption/sonship or assignment. The blessing of the LORD makes a person rich, and he adds no sorrow with it. Prov. 10:22
David & Mary Sue