LESSON 5-Ephesians
Chapter 4
BEING THE CHURCH OF CHRIST
Ephesians 4:1-32
From last week:
Eph. 4:11-12  And He Himself gave some to be apostles, some prophets, some evangelists, and some pastors and teachers, 12 for the equipping of the saints for the work of ministry, for the [a]edifying of the body of Christ,
Eph.4:13 till we all come to the unity of the faith and of the knowledge of the Son of God, to a perfect man, to the measure of the stature of the fullness of Christ;
This week:
Eph.4:14-16 that we should no longer be children, tossed to and fro and carried about with every wind of doctrine, by the trickery of men, in the cunning craftiness of deceitful plotting,15 but, speaking the truth in love, may grow up in all things into Him who is the head—Christ—16 from whom the whole body, joined and knit together by what every joint supplies (by every ministering supplying joint), according to the effective working by which every part does its share, causes growth of the body for the edifying of itself in love.
ALL THE PARTS IN THEIR PROPER POSITION. The joints are the points of union where the supply passes to the different members, furnishing the body with the materials for growth. The joints are the 5-fold ministers.
4:14-16 The most dangerous life you can live is an ignorant one. You're left like an infant on a ship out of control in the waves and winds of the storms of life. The fall of the dice dictates while the deceptive teachings of men and their distracting tricks entertain.15 Love (the revealed value that God sees in every man) gives truth its voice. In this atmosphere spontaneous growth is inevitable. The whole person is addressed in Christ who is the head of the body, (pictured as a conductor of music, epichoregeo.)16 From Him flows the original composition and detail of our design like words intertwined in poetry, they connect layer upon layer to complete the harmony, following the rhythm of His thoughts like  footprints. Meanwhile the body thrives and pulsates with the energy of love. Each individual part (portion) finds its full measure there. Mirror Translation 
What happens to one who is not mature in Christ. They grow up in Christ or they become victims of false doctrine. This is especially seen in the last generation. We must grow up, we must be edified, and we must edify others in these last days.
How do we edify?
Edify meaning building up. Edify has Latin roots, The Latin noun aedes, meaning "house" or "temple," is the root of aedificare, a verb meaning "to erect a house. The figurative sense is to instruct or improve spiritually, to instruct and improve in moral and religious knowledge."
Speak the one true doctrine in love, and then maturity, perfection – will happen!
Colossians 1:27-29 To them God willed to make known what are the riches of the glory of this mystery among the Gentiles: which is Christ in you, the hope of glory.28 Him we preach, warning every man and teaching every man in all wisdom, that we may present every man perfect in Christ Jesus.29 To this end I also labor, striving according to His working which works in me mightily.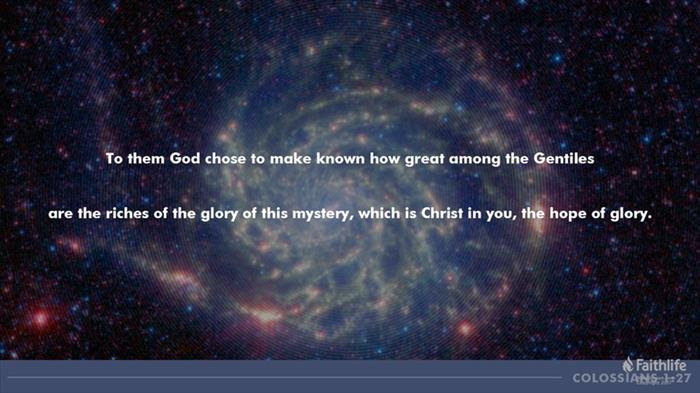 It is the job of every minister to teach Jesus, and to present to Jesus discipled perfected/matured saints. What type of saints are we presenting to Jesus? Christian perfection in the Word and our natural thinking of perfection may differ, (the word means maturity), but the perfection that the Word talks about is an attainable perfection that we must yearn towards. We may as Paul said, "I have not attained it", but the hope in us must run towards it as in a race, not so we can boast of anything we accomplished, but it is by His grace. For we are a people that yearn to be with our Father and to be like Him, and to teach others to attain our inheritance found in Christ, which is none other than Christ Himself and everything found IN HIM.
Perfection as you define it, may not be the perfection that the Bible teaches. The statement we make constantly is "Nobody is perfect". True in that we are not "ALL-KNOWING" as God or "all-powerful" and we never will be, nor should we desire to be; but you are destined to be perfect in regard to being complete IN CHRIST experientially, mature. We re-iterate this point so that our aim in this race will only settle for the finishing line and this point will build a hope in us that will not faint before we cross the line. Why is this so important? There is a time of trouble ahead that will cause many to fall away from the faith.  Of course, this is in the sense/soulish realm; you still have the faith of God in your spirit.
If your hope is in Him and you understand His hope for you then you will not faint – you will run with purpose – you will rely on His grace and ability to perform this word in, YOU! We must not however, define what maturity is except by the Word. Maturity is NOT that we will have TOTAL revelation of ALL God's word, it is NOT that we will FULLY know all that can be known about God, it is NOT that you will be able to perform ALL that God can perform. It is – You are running YOUR course, with what is revealed to you, with the ability that God told you to build with – perfectly!
As Paul said:2 Tim. 4:7-9 I have fought the good fight, I have finished the race, I have kept the faith. 8 Finally, there is laid up for me the crown of righteousness, which the Lord, the righteous Judge, will give to me on that Day, and not to me only but also to all who have loved His appearing.
  Paul puts the minister and the ministry in its proper place:
1 Corinthians 3:6-7 I planted, Apollos watered, but God gave the increase.7 So then neither he who plants is anything, nor he who waters, but God who gives the increase.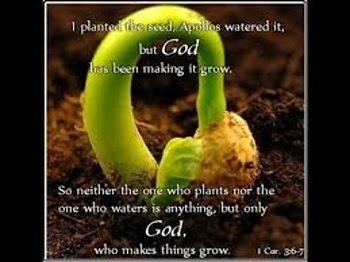 There is nothing a minister can do, except as a servant be obedient to water or plant. It is by grace that, as a minister, we have ability to plant or water. In the natural we are but mere men. How could we know what to plant, how much water to give it, where to plant it, and when to water. To know would make us a god in our own estimation. Except what He tells us, and we obey Him, and all the while, He causes the growth. We have no life in our words except His life, which no man may glory in himself. This is a life that walks in the Spirit and not walking in the flesh.
We are a field that God will send planters and those who water. Please see the way of God here, we are a field, we do not move around trying to find planters, GOD SENDS THEM. If your heart is hungry, God will send his five- fold ministry to you or someone using their ministry gift: you do not have to seek them out. Yes, you may have to GO to buy the book, or GO to the special meeting on a night you normally like to spend relaxing, but God sends them to you. God lets you know about the book, the meeting or the tape. If you are led of the Spirit and have a hunger for Truth in Christ, you will not lack for bread. If this is so, you cannot be factional. Factions come from those who pick and choose their diet, those who hunger not for the Truth in its entirety.
1 Corinthians 3:8-9 Now he who plants and he who waters are one, and each one will receive his own reward according to his own labor.9 For we are God's fellow workers; you are God's field, you are God's building.
In Paul's analogy or metaphor, He first explains His role as a worker in the field and the listener is the field. Now He changes to another picture or metaphor; that of him being a master builder and the listener as God's building. What building does God call us? In verse 17 of this passage he answers – You are God's temple.
1 Corinthians 3:10-11 According to the grace of God, which was given to me, as a wise master builder I have laid the foundation, and another builds on it. But let each one take heed how he builds on it.11 For no other foundation can anyone lay than that which is laid, which is Jesus Christ.
Now Paul continues the analogy with His role as a TEMPLE BUILDER. Paul and the ministers that preached the unadulterated Word after Paul were a type of Solomon the master builder of the Temple of God. It is built by Wisdom. At the start of this passage, Paul makes known that Jesus is Wisdom, and now we see the temple of God being built by Wisdom. We need to know Jesus as our Wisdom and cast off our foolish wisdom. We need to praise and worship Him Who is Wisdom as we approach in humility of mind.
We will continue with Lesson 5 next week.
The blessings of the Lord are upon you whether by blood, adoption/sonship or assignment. The blessing of the LORD makes a person rich, and he adds no sorrow with it. Prov. 10:22
David & Mary Sue