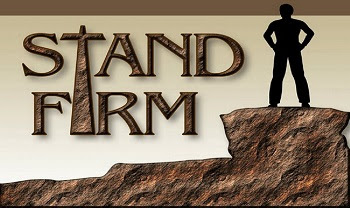 Firestorm's Wednesday Wisdom
Rejoice When Others Stand Strong
Becca Card
November 6, 2019
"Therefore, my brothers, whom I love and long for, my joy and crown, stand firm, thus in the Lord my beloved."
(Philippians 4:1)
In this scripture we see a picture of love and a desire for others to stand firm.  Paul was writing to his brothers and sisters in Christ.  He tells them that he loves them and wants them to always stand strong. 
My first thought is about my natural family, my brothers, nieces, nephews and of course Ken.  When I see those, who are standing strong and doing all God has called them to do, it brings me joy.  That is normal and a good thing, but God also called us to love our brothers and sisters in Christ.  I should rejoice when others are able to discover their destiny, grow in their relationship with Yahweh.  We should want them to have the tools necessary to stand firm.    
Do we long for our brothers and sisters in the church to stand firm in Yahshua?  Does it bring us joy to see our Christ followers standing firm in Him? 
Today I want to encourage you to love your brothers and sisters in your local church, Firestorm and elsewhere like this.  We should be praying for them, encouraging them, standing with them and rejoice when they stand firm and step out of the boat to do all that Yahweh called them to do.
As I think about this, we should not only want others to succeed in their walk with Yahweh, but we should also want to pray for those who have not come to know Yahshua and give their lives to Him.  We should always speak the truth in love and get excited to see others come to know Yahshua as we do.
Father we ask that You help us to serve those that are struggling in their walk.  Help us to share the gospel with others that do not know you.  We ask Yahweh that You use us today and every day.  We want to rejoice when we see someone stand strong.  We also want to rejoice when people come to know You!  We give you our lives and ask You to use us to touch the world!
*******************
Today when I was opening this word file I "accidentally" opened the Wednesday Wisdom from one year ago.  I think it is worth repeating and goes along with the message of this Wednesday's Wisdom.
Yahweh has called Firestorm for such a time as this to love, teach and equip those He sends us so that they receive healing and are able to step fully into their destinies. 
There is a young girl in the city searching every where
Crying out in her silence for someone to care.
Longing to be held in a mother's loving arms
To be protected by a father from all earthly harm.
But it is another lonely night, no one there to hear the breaking of her heart or the falling of her tears.
There is a mother grieving for her son lost somewhere in the night
And a young man wanders aimlessly, struggling for his life.
Searching for an answer and solace for his pain
A way to face tomorrow and to dare to hope again.
There are other ladies, men and youth sitting in a church
Hearing the voice of Yahweh, but no one will let them speak.
They sit alone and wonder and question with no one there to care.
There is no one there to train them and open doors they can walk through to their calling.
Who will go to her?
Who will go to him?
Arm stretched open wide who will go to them?
Who will love them as they are and be their constant friend?
Who will show them that Yahshua loves them;
No matter where they have been?
Tell me, who will go to her, who will go to him?
If we are not reaching out to all who are lost,
How will they see that Yahshua is the light?
Will you be the one that goes to her?
Will you be the one that goes to him?
Will you go to them?
********************
Be sure to watch next Wednesday for the NEW
FS Wednesday's Word of Power
With
Eva Windahl