Hello Firestorm:
Most of you know Firestorm has been trying to help Eva Maria Coughlin with her Ministry, The House of Peace.  She has homes for orphans in Myanmar/Burma.  Donations to the House of Peace Ministry to help the kids and support Eva's ministry can be sent directly to Eva per the information below. To find out more about the House of Peace go to:

http://firestormministry.com/house-of-peace-archives/

Eva and her husband, George are good people whom the Lord is using to help children and spread the Gospel to all ages.  The House of Peace is good ground to sow into. It should be noted Eva and her husband have been sowing into Firestorm Ministry and participating in our forums, in the midst of taking care of the children in Burma. 
And he said to them, "Go into all the world and proclaim the gospel to the whole creation. Mark 16:15
******************************************************************************************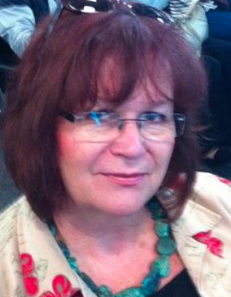 A NON-PROFIT ORGANIZATION
P.O.BOX 123, DURAND, WI. 54736
           DID NOT OUR HEART BURN WITHIN US…?
BURMA/MYANMAR TRIP OCTOBER/NOVEMBER 2014
Thank you so much for all your prayers for my travels while I was in Myanmar. My travels went well and I thank God!  This year has been a very challenging and difficult year in many respects but also much was accomplished. In Burma the large Muslim society had issued a public letter condemning the actions of ISIS in the Middle East. There have been a few clashes in the far South between Buddhists and Muslims this summer but that seems to have calmed down.
The work for the kingdom of God is in full gear and we are more determined than ever to carry on no matter what the cost. My local dentist said to me this week: I am often thinking of you and wondering if you come back…
We love them all; Buddhists, Muslims and Christians and will help without considering what the religion is, if there is a need for help. Please pray for us, our Faith Children's Home and our House Of Peace, that we may continue to be a light in this present darkness and spread the Love and good message of Jesus Christ. I love that, no matter how small our light is, IT WILL OVERCOME THE DARKNESS!
We came at a very trying time for HOP, the wife of director John , Zamiram, had just had surgery and had one of her ovaries removed who had two very large tumors attached to it. She was still in the process of healing when many of our children fell sick with the flu, I am grateful to say that I did not catch it!
John's second son Andrew 5 years old, suddenly fell sick and had to have surgery since they could not determine if it was appendicitis or another issue.  They found that he had eight cysts in the stomach and removed several of them; the rest will be treated with medications. He is on his way to recovery.
John will head for the prison in just a couple of weeks to bring the saving message of Jesus Christ to the poor and needy prisoners there, and a Christmas celebration. He was able to start a prayer group last year in this prison, and so far there are about nineteen prisoners meeting now!
We were able to contribute to the effort and also help pay for the medical costs of the surgeries. The devotional time for the children has increased from one to two times a day, where John will tell the children bible stories and then he will challenge them to tell them to their school mates. He believes in twenty new children-believers before the end of the year! I join him in believing for that! Children will bring along their parents!!
We still need a new home for John, to make more space for an incoming flood of new believers! Help us pray for the $35000 it will take to build it. We also would love to start another home as we are asked to take in more children then we have space for now. We were able to give a special Christmas allowance.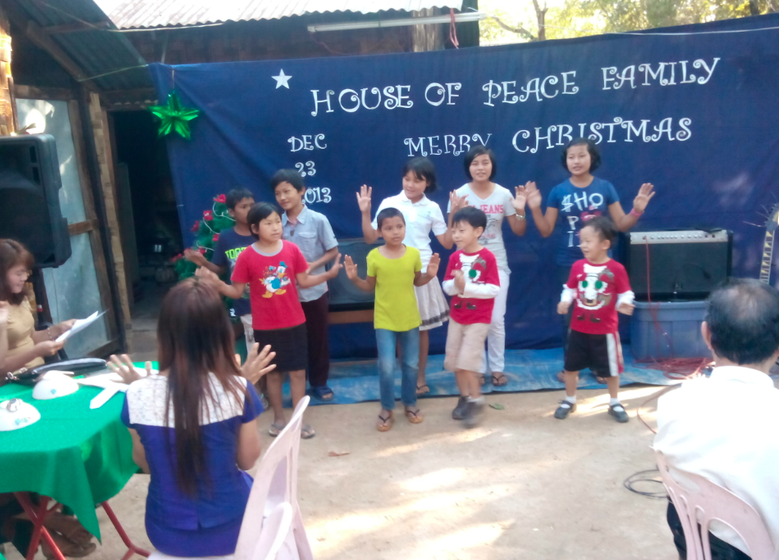 FAITH CHILDREN HOME, Kalay Myo:
Mowite, Henry's widow has had a hard two years; Henry passed away almost two years and she took over the leading of the home. And Monica, her six year old daughter, went to be with the Lord in August after a bout with cerebral malaria.  Her son Johnathan also came down with it, but God in His mercy healed him after an extended time in the hospital.
Mowite has turned out to be a very capable and resourceful director who takes well care of our children. All of them are doing well in school and are healthy now. While in Yangon I communicated with her on almost daily, but was not able to visit them.
I had to cut my trip short due to health issues with George. But I will see them all in February 2015. We were able to take care of the school fees and the usual needs and also a special Christmas allowance for the children. Please continue to pray for them for health and joy.
We need some musical instruments for worship at Faith home. Their dream is a keyboard, as Mowite would like the children to learn how to play the piano.
Miss Khine has been a friend of mine for many years now in Yangon; she is a Buddhist. I have told her about Jesus, I prayed with her and saw her miraculously healed several times. I know she has felt the power of God, but she has steadfastly refused to accept Jesus as Lord. So the other day I said to her, after she was asking some questions, with all the things you have experienced and you felt the power of God on you, how come you refuse Him?
And then she said that one time when she had a very difficult time in her life she prayed to Buddha and ask him to help her; she desperately needed help. That night she had a dream, and peace came over her. Then she told Buddha that she for the rest of her life she would be a devoted follower of him… she seems to be afraid to brake this promise….Please help me pray for God to rend the veil from before her eyes!
Miss Khine has been without a job for the last year. She is 46 years old, unmarried, and the job market is cruel, they only want young ones or computer experienced ones as translators. She is very good in English but she has no computer knowledge. So we sponsored her for a two months computer training course with a private teacher and we purchased a very good reconditioned laptop computer. We are hoping and praying that in this way she will be able compete in the newly created job market and find a good job to earn her income, and have a brighter future.
We were looking for a new living situation for her too, but found terrible situations, in dirty ,moldy apartment houses, little partitions of plywood, in a big room parceled off like little prison cells for $60 a month. Not enough space to turn around in. And there where ten of those in a large room! And a bad tempered woman in charge of it, just like prison. After looking at these she decided to move with her sister for the time being. But I felt so sorry for those who were living there, coming from the country side to work. The funny thing was that the woman in charge thought I was going to move there.
We must be so grateful for our large homes, cars and freedom! For ALL our blessings! No matter how little we have we still have more!
Just in: John just send me an e-mail that all is well at House of Peace now, all the children and grown-ups are very well. Thank you for all your prayers, God is faithful! Hallelujah!
My next trip is planned for the second week of February 2015, and I look forward to going to see Faith Children home as I missed them this time. Please continue to stand with us, pray for us and continue to support these children, without you there would not be a chance for them ; they are the little lights of the future! The church of Jesus in Myanmar/Burma!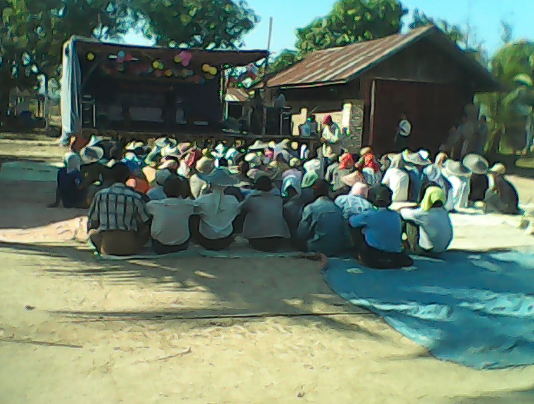 We all love you; pray for you and thanking God for you at every remembrance of you!  A very blessed Thanksgiving to you, may you be blessed to overflowing and a holy and special Christmas in your heart and home! JESUS is the reason for Christmas! Can I hear a big AMEN!!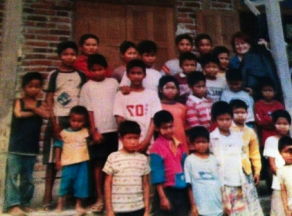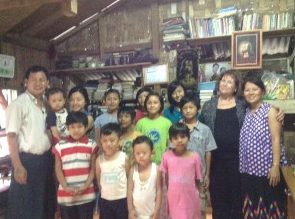 This little light of mine, I am going to let it shine! Go and shine forth!
Love you in Jesus' Name, Eva Maria

EMMAUS ROAD CORPORATION
A NON- PROFIT CHARITABLE ORGANIZATION
P.O. BOX 123, DURAND, WISCONSIN, 54736
Phone/Fax: 715-672-5775
Website: emmausroad-min.org
DID NOT OUR HEART BURN WITHIN US…?
LUKE 24:32
 Dear Friend,
Thank you for your prayers, love and support for our children in Burma/Myanmar.  May God bless you in every area of your life, I pray for peace for you and your household.
I want to let you know that in just about 6 weeks I will travel back to Burma to bring school fees and living expenses. The children, who now are having vacation, will be heading back to school in June and the fees will be due.
We just received news from our Faith children home in Kalay regarding school. All the children of Faith have gone to the best school in Kalay, the Lois Center. A fine Christian school that has become very popular with the well-off town's people, many are not Christians, who can afford to send their children there. Since the public schools are of mediocre quality. The Lois Center has become so popular that the government has decided to take it over, and the fees have been raised to double and more. To continue to send our children there is now is out of our budget as it would take every month $60 a child to continue on at the Lois Center and we do not have the budget for that. We will need to send them back to public school.
It is with deep regret that we have to do this and it will be a shock to the children, some of them have never known another school. Please pray for our children and for the country of Burma/Myanmar, it really has become a very expensive country with little or no benefit to the average person in that country, food prices and other fees have all gone up.
House of Peace in Yangon is doing well and our children are enjoying their summer vacation in very hot temperatures. Director John is very busy with teaching and evangelizing during this season.
At this time we are still short of our needed budget by $ 4000 and are praying that God will supply all the needs. If you could help in any way we would be very grateful. Please pray for me as I plan to leave by the 15. of June 2014 back to Burma. Thank you again and my love and prayers are with you! Thank you for your generosity,
Eva-Maria

Since Eva-Maria has returned from her most recent trip a rather urgent need has developed regarding schooling for 20 children from one of her orphanages.   Please see the note from Eva-Maria below regarding this need and join us in prayer that this need will be met!
A very urgent need has arisen as I got an e-mail yesterday from our home in Kalay. Our children have attended a private Christian school, the only good school in town. It has grown from only 3 grades to all 10 grades required in Myanmar/Burma.
It has gotten so popular that the government is taking it over and is raising the fees per child double! We were able to pay the fees for the 20 children attending so far.  Our budget is not very large and we were glad to do it, but now it would absorb our whole budget.  We can no longer do that that since we still have another home to support as well.
We are looking for monthly sponsorship for these 20 children, and it would at least $60 a month per child for 9 months.  We would need these funds from June- February, which is the school year.  I believe God will bring the people who desire to sponsor a child, as we cannot do this without extra help, besides the regular giving of those who do give already.  There are always challenges in the work of God; I did not expect this one!
Please prayerfully consider a special donation to support these special children!
May God bless you richly!
EMMAUS ROAD CORPORATION
A NON- PROFIT CHARITABLE ORGANIZATION
P.O. BOX 123, DURAND, WISCONSIN, 54736
Phone/Fax: 715-672-5775
Website: emmausroad-min.org
 DID NOT OUR HEART BURN WITHIN US…?
LUKE 24:32
BURMA/MYANMAR TRIP REPORT –FEB.-MARCH 2014
Dear friend,
Once again I have returned from my trip to House Of Peace and Faith Children Home in Myanmar and it was a very productive journey. Thank you so much for your prayers and support, much was done to the glory of God.
On this trip where many God moments. Personal ministry was more important than ever, and I had many more opportunities of intense "one on one" ministry. Myanmar is one of the new vacation destinations of the young and older Europeans and a great and lucrative tourist industry is developing in this country. The rest of the population is pretty much left out of these benefits and still very much struggling to make ends meet. Hotels are still increasing their rates to unrealistic prices, trying to make up for lost time. The number of cars on the roads has drastically increased and the traffic jam in Yangon can be overwhelming now. The need for God is even greater there now, with all the influences of the outside world pouring in to Burma.  I hear this phrase inside of my heart "this little light of mine am going to let it shine…"
House Of Peace: John, Samiram and all the children are doing very well, it is vacation time now, and school is starting again in June.
Our biggest boy is leaving our home by May. He was with us only temporary for the last three years as his parents where missionaries to the Wa people, a fierce head hunting, head shrinking people in the wild mountains of Myanmar and left the son in our care. We will miss him very much; he is a very nice boy with a sweet disposition and will be a blessing to his parents.
John has extended the living quarters of the girls and they now have a lovely living room and an extra bed room. All the children have done very well in school thanks to John's niece who is tutoring them throughout the school year. They were in a great holiday mood and where heading for a few vacation days to the beach at the gulf of Bengal with a group of pastors from the area. John will start mushroom growing again in the next month to supplement the income of the home. We thank God for our Family Of Peace and we are so grateful to be a vital part of it.
John still needs a new house; the old one is being eaten by termites and is not going to hold up much longer. The new house will need to be made with cement so we will not have that problem again. We are praying for the funds of $25000 to come in to build this new home and to make it an evangelistic center for a student ministry that is very much on the heart of John. The university is nearby. We also have a chance to open a new home for children as the need is great and we have many requests to take in needy children, but we need the funds for it of $9000, to start it.
Faith Children Home: In Kalay, Moite, Henry's widow is keeping the home well, she is very capable and the home looks nice and clean, a great vegetable garden is growing and several pigs are being raised. The new loom house has the two looms we purchased a few years ago and they are being used to teach all the girls how to weave; a friend of Henry's as a memorial to him, has donated two more looms. All the girls are very glad to learn and proud to weave on these looms. They are doing a very nice job and the Chin hand woven fabrics are sold at a high price.
We had a very exciting week at Faith as solar panels where installed and instead of wood fire cooking we installed propane gas burners to cut down on time, pollution and the eye problems the women have from the smoke. The solar panels are really doing a great job, and we get so much electricity from them. The children now watch the Superbook DVD's I brought them all the time.
The gas cooking is also very good, all the neighbor women came to help with the cooking to see how it went and all are surprised at the speed it cooks and no smoke and heat. The only problem is that the bottle of gas, we got the biggest one they had, about 5 feet high, does not last, as told, 6-8 weeks but it seems it only last 3 weeks…Which makes a very expensive to use. We are praying for wisdom and what to do in this case.
We had a great time visiting an amusement center that turned out to be a video arcade! The children had asked me if I could take them there. Since all of them did so well in school we also had a lovely party with singing and refreshments. Most of our children speak English now, as we send them to the best school in town and it is a Christian school! It has become the elite school in this city, the Buddhists sending their children to this school now too. Of course the fees have greatly increased as well. Thank you that you are making it possible for our children to have such good education.
On Saturday and Sunday I taught on the precious blood of Jesus to the children and the adults. I pray they will never forget it!
At the dentist, two children had teeth pulled and one teen boy had a new front tooth put in where one had been missing. One of the young girls got new glasses and so did Moite's mom who is the weaving teacher, gardener and many other things. She now has glasses too and said that she was ashamed to wear them!! She is a very simple and quiet woman.
School will begin again in June; in the meantime the children are doing their shores and enjoying the free time. Thank you for helping us feed, clothe and educate these children. You are changing the world one child at the time! God will reward your kindness!
Yangon: We were able also to help a young man; Moe is his name, who sells post cards on the street, to get surgery for his mom who was in the hospital. He is Muslim and the Muslims have a free hospital for their own people, but this woman has no identity card so she was not accepted. She went to a regular hospital and needed funds to pay for treatment. In most Asian hospitals the family is responsible for the food and care of the patient. So the boy had to bring food to his mom and his two little sisters, age 4 and 6 who stayed with their mom in her room, every day. There are no family members to help with them. Thank you for making this possible!
1. Please pray for Anjele, a Russian girl to whom I ministered for two days; she expressed faith in the Lord.
2. For Tyrell, a young man from Chicago, who knew the Lord but needed someone to pray with him, in Yangon.
3.For John's new house and the funds to come in, for the new children's home,
4.For wisdom on how to deal with the gas situation in Kalay and for all the children in both homes.
5. For my next trip in June and all the needs to be met.
God bless you my friend, we all love you and thank you, may you be blessed in the innermost with the understanding of the depth of the love of God for you! With a grateful heart, Eva-Maria
**********************************************************
Firestorm is a 501C3 Ministry and all donations are tax deductible. To make a donation for Eva and the orphanages, please make sure to tag the donation with her name: Eva. To make a donation with a credit card through PayPal click the "Donate Button" at the bottom of this page!
To make a donation with a check or money order:
Firestorm Ministry
2226 General Raines Drive
Murfreesboro, TN 37129
This last year, we met Eva-Maria Coughlin, with The House of Peace Ministry and learned of her evangelistic/missionary outreach to children's orphanages in Burma. Through your kind donations we were able to send her a check to help with the kids.  Here is an update from Eva and some pictures she shared.  Thank you for your donations and may the Lord richly bless you.
Eva's hand made jewelry is on the Firestorm Website to help raise money for the orphanages.  You can find other interesting items on the FS Community Bulletin Board. If you would like to post something contact: beccacard05@aol.com
PayPal, credit cards and checks are accepted.
Recently Eva has been in Burma again!  The children had the opportunity for a day out and lots of fun!  When they returned home from their exciting day  they sang a special song!  This children are precious!
Song for You from Firestorm Ministry on Vimeo.
**********************************************************
Dear Bonnie,
These are the Christmas party pictures from House Of Peace in Yangon, Myanmar/Burma. Each year they put on a big production to attract the Buddhist and Hindu neighbors. They sing, show the Jesus movie and give them all dinner, since we leave an allowance for them to do that each year.
 The land of this home was donated by a local business lady who is a friend of mine. It had been for years a, "bone of contention." Several parties had stolen pieces of this land and the land left, that we got, is only part of more that was taken, and someone was in the process of stealing all of it when we received it.
Then I asked John (Kong Kaen), to take it over for a children's home and become the director with his wife Samiram. We had seen a lot of deception in the past with houses being given to an individual pastor as a children's home and in turn he has sold it for his own profit. I insisted that it would be donated to the church where John's brother is the pastor and John is the youth pastor.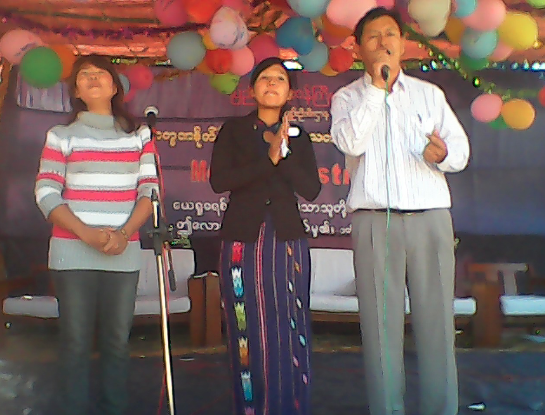 John also is a fervent evangelist, musician and song writer.  Besides, he is joyful, resourceful and fun to be around. He travels all over Burma to proclaim the Word and Jesus Christ. I am proud to be part of this ministry because of the fruit we see.
House Of Peace is really the only Christian home in this area, there is a very large Buddhist pagoda down the street and a Hindu temple that has lots of rooms underground. It is also very close to the Yangon university; that's really why John agreed to move to the home. His dream is to evangelize the young students there. It is our big desire to reach them for Jesus! We are claiming the whole area for the Lord Jesus !
We have nine girls in the home and about six boys, four of them being John and Zamiram's own children. Three of the girls are John's nieces, his brother and sister in law both died of AIDS and left eight children behind.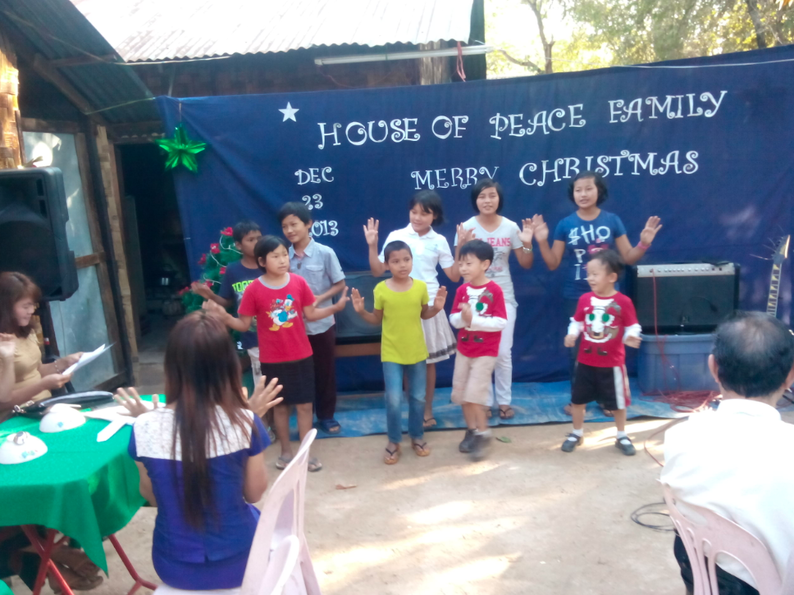 John also visits every Christmas the prisons and he has special favor with some of the high officials. We are praying for a bigger cement home for House of Peace with a space for larger meetings, the little one there is made of wood and Bamboo and is slowly eaten by termites. They need a new home soon.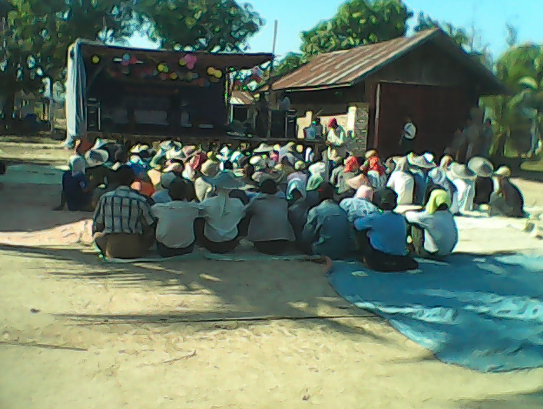 Please help us pray for the $25000 to build the new home. We are also praying and planning to open a new children's home that his oldest niece would like to run, she is very capable and loves children.We have many requests to take in more children, but we do not have the space as of yet. Thank you so much for all the prayers and love and support, we really could not do any of this without you!
Well, my friends, God bless you and thank you for your time, love and interest, Eva-Maria
**********************************************************
Firestorm is a 501C3 Ministry and all donations are tax deductible. To make a donation for Eva and the orphanages, please make sure to tag the donation with her name: Eva. To make a donation with a credit card through PayPal click the "Donate Button" at the bottom of this page!
To make a donation with a check or money order:
Firestorm Ministry
2226 General Raines Drive
Murfreesboro, TN 37129

Hello Everyone:
I have been asking the Lord to show me where and how, He wants FS (us), to help others. We are a ministry that was birthed to help train, equip and mature the saints of God, not only through the Prophetic and Prayer areas of ministry, but in all areas of the Kingdom Commission and missionary work is another one of the areas that is important to God.
I have been looking around as Missions have been on my heart and all of a sudden here came Chris Hirsh sharing she was going on a mission trip to Guatemala. Chris has been with Firestorm for many years and in the past had gone on some trips and through Firestorm, we were able to send her some financial help, which was a great blessings for all of, especially after hearing all of the good things that happened to them on their trip sharing Jesus.
During the 2013 Firestorm Conference, God did some networking. We met a lot of new people and some have begun to come into the various forums we have on Monday, Tuesday and Thursday. Pastor Bob Hawley from Ministry Streams spoke on Saturday night and some of his followers came into the Firestorm Video Stream that night to fellowship with us, many of whom are, from overseas. What a blessing to know God is expanding our tent pegs, again.
As the weeks of fellowship have gone by, we have begun to find out some things about our new friends. Evanunu came in with several of her friends and one night someone said, "Tell her about your orphanages." My ears perked up as Evanunu (nunu=mother) began to share about the orphanages she was sponsoring in Burma. I asked her to send me information about what she was doing and found out she used to help smuggle Bibles into countries…..Well enough of me. Here is some information about Eva-Marie Coughlin, her orphanages, visions and needs.
Blessings, bon
**********************************************************************************
BURMA/MYANMAR TRAVEL REPORT OF OCTOBER-NOVEMBER 2013
Thanks be to our Lord Jesus Christ for the great trip to Burma, and thank you for being so faithful to pray for the work there, for all the projects, and for my health and safety while traveling. There was a lot more prayer support this time and I could feel it! Many times I thought of you and thanked God for the gift of prayer that He in His mercy heard and answered.
Most everything is quick to change in Asia; it is often astonishing how quick it happens! Burma/Myanmar is changing, new hotels are going up in Yangon, and in just a few months I saw changes in clothing with young people.  It makes me a little sad to see the lovely long sarongs with matching color blouses exchanged for tight jeans and low cut tops. But it is to be expected, as the country is now open to outside influences. We also see more young people leaving the churches to pursue worldly things. Please pray for the church and innocence of Burma/Myanmar. 
House of Peace:
John, our director of HOP has been to the USA for a conference and seminar about youth ministry, which he loves to do. I visited HOP, and Zamiram , John's  wife was taking care of the children. We had a lovely time and I had bought things like shampoo and girls bras which received loud applause! Very few people use shampoo. The house on the grounds of HOP will need to be replaced as the wood has been eaten by termites. So we are hoping to raise the funds to start a new cement house, that cannot be eaten by bugs and is bigger; he has now four sons. John has great plans of ministering to the college/university students from the nearby university of Yangon. He plans to hold services in the new home, but needs first of all prayer for God to make it come true. We need to make that house big enough for these meetings. Pray for the funds for this project to come in, so we can expand the ministry.
Some of our children at HOP have TB and are now under treatment, and all the children have to be watched as TB is very infectious. We did purchase medicine for them.
We have tried to contact the board of the ministry who owns the home that we have been interested in as a new home. But every time we attempt to meet, most of the board members are traveling. So we are looking at a different and less expensive option. There is a house near by that belongs to John the director of HOP. It is a small house, and made of Bamboo, right next to it is a piece of land for sale we would like to buy; this would allow us to enlarge the house and use it for a children home. It would be a much more affordable option. Right now we are praying for the Lord to bring the funds for this project. The piece of land next to John's house costs $7000, renovations and expansions will cost about $2000. Total cost: $9000.We would like to go with the new option! Please pray for the funds to come in. Pray for the children to be healed from TB. John is home again, to the joy of his wife and children!
 Faith Children's Home, Kalay Myo, Myanmar:
On the 28th of December will be the first anniversary of Henry's death, it is still hard for me to believe he is gone. We had some very sad news that Joshua, a young man the same age then Henry and his wife, parents of four children besides several orphans, where swept away in a flashflood  a month ago, increasing the number of deaths through drowning to three this year. Please pray that no more of these young and dedicated people will perish before their time! Pray for the children and family members that they may be comforted.
The Faith home is well taken care of by Moite, Henry's widow. This time I also brought underwear for the boys and girls and soaps and bras for the girls as well, which were received with much giggling. They all look well and after measuring them to see if they were malnourished, we found that all are doing well. It was my pleasure to work with Moite on providing more nutritious meals, but we had great trouble finding milk powder. It did not exist! All that was handed to me when asking about milk powder was big bags of the non-dairy creamer for coffee! I found it a bit scary hoping that it was not used for babies as a substitute for mother's milk!!
The chicken/egg project has failed; for a while it gave them a good income, now it is all over. Most of the chickens died and the rest was butchered and sold in the Market around June, when the rainy season began. The rainy season is just too difficult for chickens, the temperatures are just too high and chickens cannot live in that climate, they need cold water to drink but there is no way of keeping it cool. So we are kind of back to square one, full supporting them again. Some of the food funds come from Henry's uncle and part comes from us, we also fully take care of the schooling of the children, they go to the best school in town.
Several of the members of Faith where taken to the dentist. Henry's dad had a tooth pulled, and two young boys got artificial front teeth which they lost to unknown situations.
We also provided for an elderly lady who lives with the children because her alcoholic son is not taking care of her. She got new teeth, as her teeth where lose and she could not eat anymore. We also got her medicine for her infected eyes, and they were already better after a day.
We are hoping and praying to install gas burners for cooking in the kitchen of Faith home. Right now everything in the area is being cooked with wood; there is high air pollution because of it. Besides that, the women all have trouble with their eyes; Moite had to have medication for her eyes, as they were inflamed from the smoke.
Gas, which is new in Kalay, would be clean burning; it would be good for the women's health and for the environment. The estimated cost would be about $800 for all of it, for tank, three commercial burners and the lines to them. We plan also to install two solar panels on the roof of the dormitory. It would help a lot with electricity, since the Burmese government just increased the electricity fees to double the amount and it is a very unreliable commodity there. With the tropical climate these solar panels would be far more reliable and provide hot water daily that until now is just a dream for them. Nobody has ever taken a warm shower there!  The Panels would pay for themselves within 14 months. It also would provide power for lights at night and maybe even a washing machine! That would really be something; nobody has had enough power for one! The cost of the solar panels and installment will be about $700.
There were many blessings along the way and also great challenges but thanks to your prayers and gifts, much was done and challenges overcome, we were able to give both homes an extra allowance for a great Christmas celebration.
We desire continuing prayers for our work there, for the glory of God and for the plans to be fulfilled as God sees it fit. Please remember us this Christmas for you are our "team member" and without your help it could not be done. We wish you a very merry Christmas as we remember "that Jesus is the reason for the season"! And a blessed, productive and exciting New Year! With Love and best wishes and a big thank you at the close of the year 2013! We thank God for all that was accomplished this year!     Eva-Maria                                 

Real People Making Real Things Happen

Eva Marie Coughlin

The Beginning – Our First Home
Our first home we started is located near a mountainous region called the Chin hills and is very close to the Indian border.

In early 2001, I decided after leading a bible smuggling team to Ventiane, Laos and Hanoi, Vietnam. The team members had gone home already, but I wanted to make an excursion and fly the 1 and 1/2 hour flight from Hanoi to Yangon/Rangoon, Burma/Myanmar and visit an orphanage that a missionary started, who was being supported by our church in Wisconsin.

I loved team leading these bible smuggling teams for VOM, and wasn't looking for something new, just wanted to visit… There in the orphanage, I met a young man named Henry, he was a Chin tribal man, as all in this orphanage were and he was a visiting teacher at the bible school within the orphanage.

We liked each other right away, and when it was time to shop in the local market, he enjoyed coming along. I remember buying him a new outfit and shoes. I really did not want to get involved in working with orphans, as I stated before, I was quite happy doing the smuggling.

I was glad that my own children had grown and I was able to do this work for The Lord and work with the persecuted church/underground church in restricted countries! It was a pleasure to help brothers and sisters in such difficult situations and to encourage them.

After leaving Burma and heading home I found a letter from Henry, asking if I could help him with support since he also had orphans and needed help.

We get many requests for help, so I ignored the letter. But within the next month I had another letter asking for help. So I said to The Lord that, if there would be another letter, I would go and visit just to see, but I had no plans of getting involved.

And sure enough, with in the next month, there was a third letter. Now I had to do what I had said, and on the 13th of September, I went on my way to Burma. It had been only two days after 9/11. The plane in Minneapolis had no crew and could not leave on time!

Finally a crew gathered and we left 2 hours late. The airport in LA was filled with terrified Japanese people wanting to leave the USA ! Once in Burma, after a 24 hour flying schedule, I flew another 3 hours across the country near the Indian border, to the city of Kalay Myo. I.

The airport was a scary assortment of men with black teeth and unfriendly scowls who were fingering my passport and finally getting me to understand that, I could not enter the city.
I was upset, what was I going to do?

Then, a Catholic sister who had been on the plane with me, came over and ask me what then problem was, in very good English. After telling her what had happened, she went over to the fellows, who turned out to be the military without uniforms, who where surrounding this city.

She came back and told me to come with her, she had told the military that I was her guest and she was taking me to her convent. Once outside of the airport, I saw Henry amongst the waiting crowd, sister Clare, that was her name, released me to, Henry and we have been friends ever since, Sister Clare and I.

Henry took me to the hotel, a cement prison like cell with dirty walls, we then went to see his home and it was shocking ! There was a tiny room with a young pregnant woman, Henry's wife, and 25 shaven heads -children, hard to see if it was boys or girls! And so thin and lethargic.

But I did not want to be involved, it was such a heavy Burden, children. They always in need for food or clothing, schooling and care! It would never have an end….

Then, when I sat in that car to take me back the hotel room, I suddenly heard, "They are not looking to you, they are looking to ME through you!"

And I said, "YES Lord that moment, I WILL do it," and have never looked back.

Returning home, I was able to raise funds for the property for a new home with in two months! And went back in January 2002 and we bought a nice big piece of land to built the future Faith Children's Home.

First we constructed a temporary long house, and later we raised a cement and brick dorm with 2 floors, a kitchen, separate from the dorm, 2 wells, a garden, shower house, toilets and a surrounding wall that protected the whole property for safety!

We where able to locate a unique Christian school, where all our children are now getting their education, so, it is quite expensive , and it has become the elite school of the area!

In the beginning all our children had tuberculosis and went through 4 months of treatments and all were healed.

We still today, have some issues with TB. It is a very present illness there, and malnutrition is very real. I still have to talk about it every time I come, to tell the women how to feed the children right, since malnutrition is always present and hinders the children's mental and physical development.

During the 12 years working with this home, I am amazed how much God did with little! It has always been a challenge to raise the funds and at times my trust has been very low, but God always has come through. HE is Lord above it all and good and kind and merciful.

It is a huge privilege to be partnering with God, what an honor! And now we are looking to increase our homes and meet the needs of these little ones with the love of God and make their lives count for the eternal kingdom and the future of the Christian church, the Bride of Christ, in Burma/ Myanmar!
2nd Home
This home is a great miracle! The land was donated to us by a Burmese lady, who had been offering it to me for 2 years and I turned it down each time! When she offered it to me again, I heard the Holy Spirit say, "take it"! And I said yes!

A very interesting Burmese journey started and God provided, almost immediately a director, John Kong Kean, who was my travel agent and a evangelist and youth pastor in his church, but also a very gifted and talented musician!

God had instructed me to create families not big homes/institutions anymore like our first home on Kalay Myo, close to the Indian border. Most of the children were falling through the cracks in homes like that and none of their needs where truly being met, leaving them needy and hurting.

So, my agenda was a small home, up to 12 children and mainly girls. Boys get a lot of attention and favor in this Asian, Buddhist society and girls seem to always lose out. It was important to me, to focus attention on the girls for a change.

God in the past has used me to bring up the women and talking to the men to love their wives more then themselves. That is very hard for them to comprehend. Women are very hard workers there, but not respected.

So John went to a mountainous region of Burma called the Katchine state, his home state, he is a tribal man, a Katchine, as they are called.

There is a internal war going on and off limits to tourists, the Burmese government versus the tribal rebels wanting independence.

Many children are suffering with no parents being brought up by grand parents who find them a burden and can not feed them.

John was able to locate 6 girls in very difficult and abusive situations and by train they traveled 3 days to become a family at our House Of Peace.

We now have 8 young girls and 6 boys living at the home, 4 of them being John's and Zamiram's (his wife) own sons. The girls have well adapted in the loving environment of Christian love and care and are doing very well in school.

It is a joy to visit with them and listen to them reciting scripture and singing songs, laughing and being normal! Only God's love can transform like that!

We are now looking to open another home in the area of Yangon since we have many requests to take in more children. We have the home located and we praying for the funds for this home of about $50000.

Please help us pray that we will be able to raise this amount. God is Able! And the need is so very great! Jesus loves the little children, all the children in the world….
Eva-Maria Coughlin – House of Peace
Yangon,Burma/Myanmar
*****************************************
This young man is a post card seller on the streets of Yangon, Myanmar. I have known him from when he was small. He is helpful and kind.

I always take him for tea, in places where he would not be allowed, like this International Hotel, I delight on taking him there because, in my eyes he is allowed. He deserves to be treated well!

His mom just died, he is now 18 years old, his dad died 3 years ago of alcohol related disease. When mom died at 43 years of age he was left to take care of 3 small siblings, 8,6, and 3 years old. He is very concerned how he would do it, and wants to go to school to learn English to get a better job, to support his little brothers and sister.

He was asking me to sponsor him to English school, that day I also was able to give him some support money for the schooling of the children. We have not sponsored him yet. We hope to do this soon. He desires to learn, he speaks English, but cannot read or write even in Burmese. Very sad!

**********************************************************************************
I like God bringing people to Firestorm to expand our tent pegs and for us to help others expand their tent pegs. Though Firestorm is a small ministry compared to many in the eyes of the world, we are not small in the spirit. I sense God has placed this woman, Evanunu, here not just for us to fellowship and encourage, but to also help Him help these children through her and through Firestorm.

At this time, Firestorm is not big enough to bless Eva with the $50,000 dollars she needs, but we can send in our part. Eva is leaving this Thursday for Burma to visit and take some much needed supplies and check on everyone.
Thank you for donating to help the children and praying for Eva's safe travels, wisdom and favor of men and women in places of security and transportation. Eva resides in Wisconsin and her daughter is a stewardess, which enables Eva to fly and use monies raised to help the orphanages. Check out: FS Orphans on the Firestorm Website to learn more and look for Eva's information on the FS Community Bulletin Board, regarding jewelry she makes to help fund the orphanages.
Enjoy this short video of the orphans from Burma!
Firestorm's Orphans from Firestorm Ministry on Vimeo.
Meal Time Feast.mov from Firestorm Ministry on Vimeo.
*********************************************************
Firestorm is a 501C3 Ministry and all donations are tax deductible. To make a donation for Eva and the orphanages, please make sure to tag the donation with her name: Eva. To make a donation with a credit card through PayPal click the "Donate Button" at the bottom of this page!
To make a donation with a check or money order:
Firestorm Ministry
2226 General Raines Drive
Murfreesboro, TN 37129


 Click here for the FS Community Bulletin Board for Information on "Jewelry by Eva" which Eva makes to help fund the orhapanges!